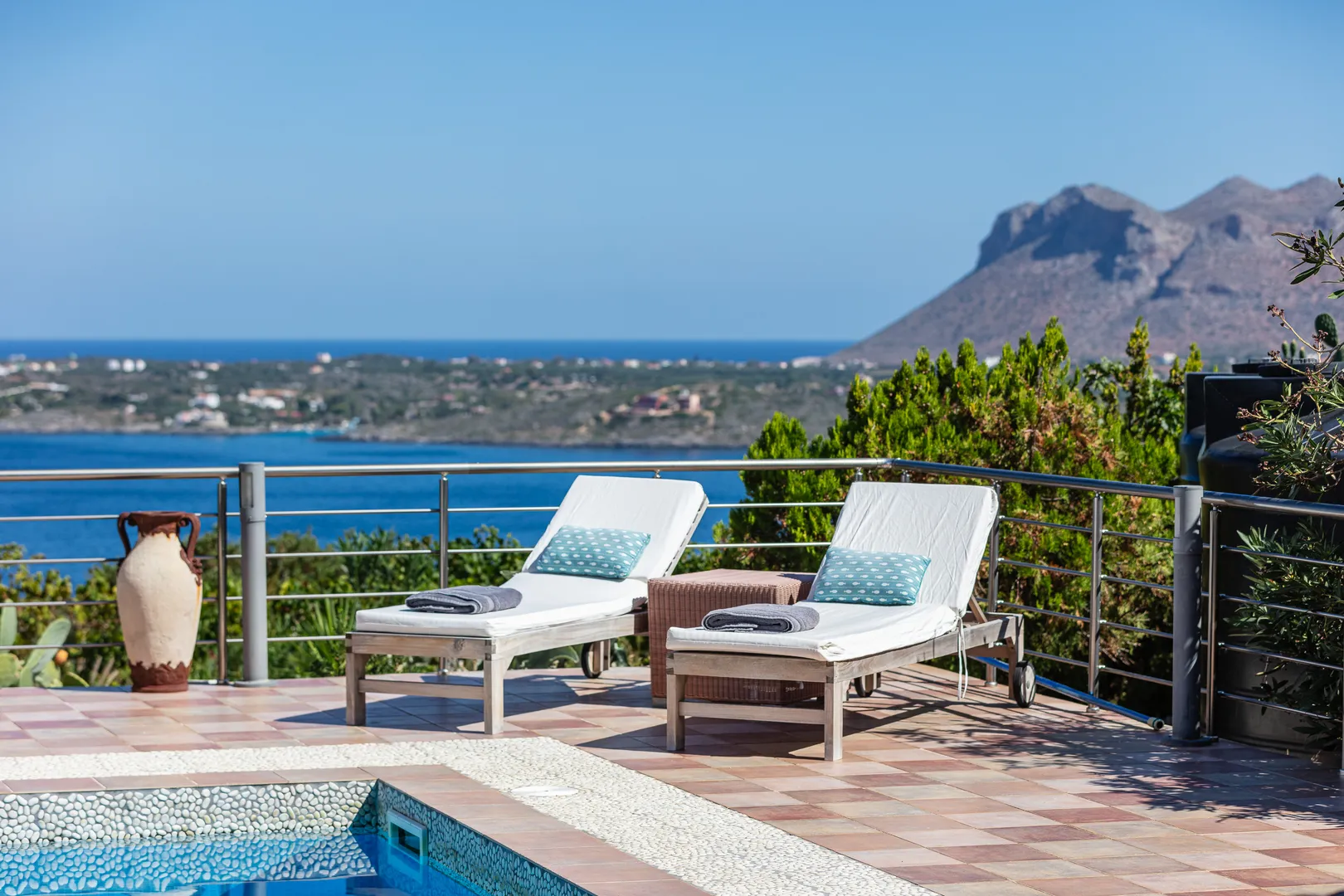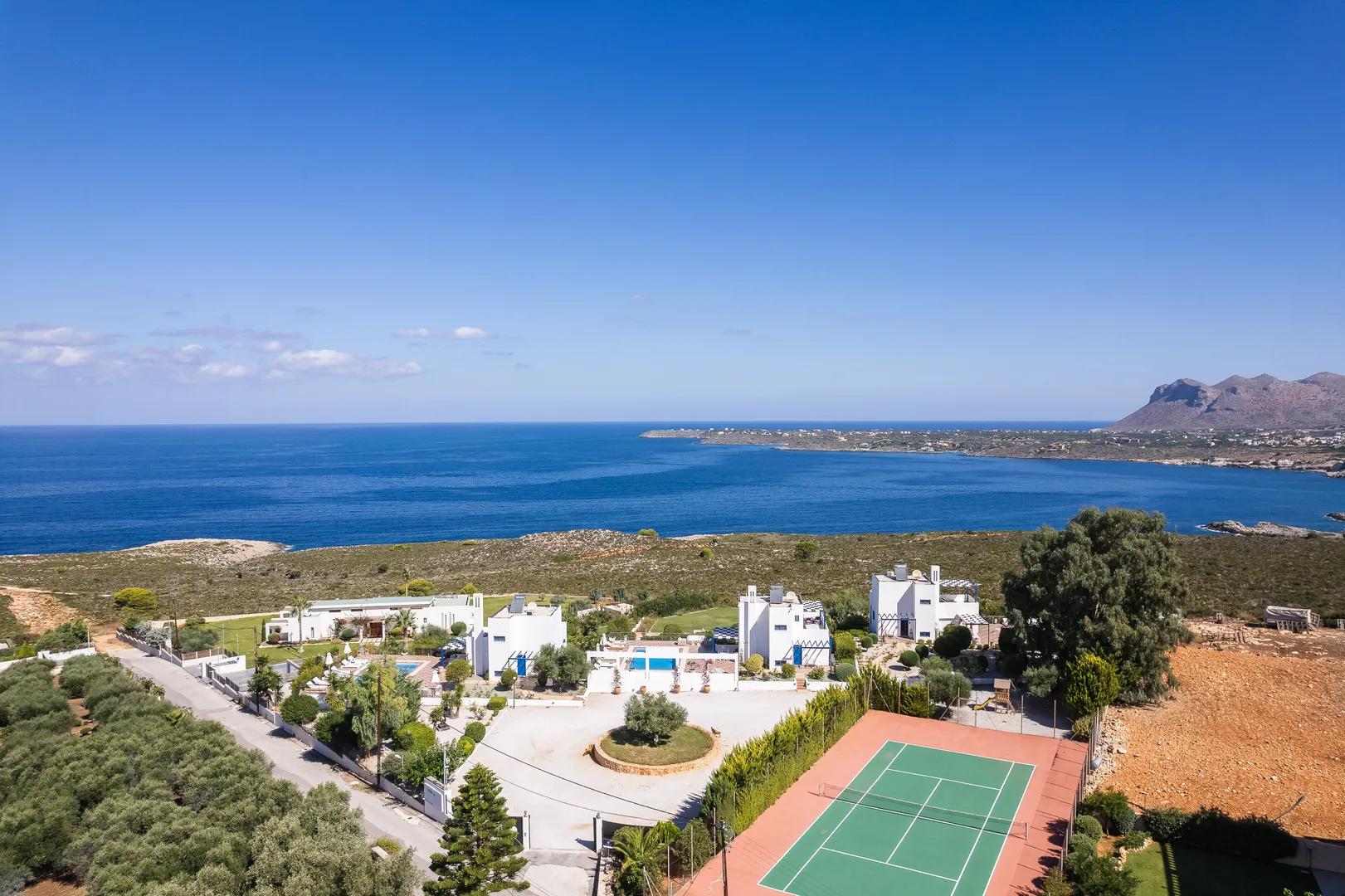 Raising Comfort To The Highest Level
Welcome to Villa Blanca Luxury Homes
Ocean, Sky, and Sun are the three main elements that characterize these modern Greek island type white and blue villas.

Villa Blanca is a tranquil haven to enjoy the blue Cretan Sea, bright sky and warm sun…
At our establishment, we prioritize providing an exceptional experience to our guests. That's why we have curated a range of top-notch amenities to cater to your every need. From the moment you step through our doors, you'll be greeted with warm hospitality and a host of luxurious features.


Private Swimming Pool



Wellness & Massage



Transfer services


Travel and excursions



Grocery Shopping



Private chef
Raising Comfort To The Highest Level
Kelly Young
26 September 2023
Amazing place location and views. Highly recommended second visit with family. We will visit again. Clean and welcoming.
Shimi Ben Baruch
5 July 2023
Villa blanca a dream in chania. Perfect location! Luxury Greek villa full equipped with everything you need Fani provide perfect service in real time . Strongly recommended.
The perfect location for summer vacation. Spotless clean, well decorated and amazing view. Very recommended for families.
וילות להשכרה אכותיות מקסימות ומאובזרות
תומר ליברמן - רתך צנרת
17 September 2022
ווואווו מקום מדהים ופסטורלי. אחד המקומות היפים,המפנקים והרגועים שהייתי. מחכה כבר לחזור. שאפו
מקום מדהים ביופיו,נוף מדהים הוילות מעוצבות ברמה גבוהה. מאובזרות בהכול. קרוב לשדה תעופה,קרוב לכל מקום ועם זאת יש שקט ורוגע במקום. נהננו מאוד ואנחנו עוד נחזור
keren lihad
17 September 2022
מקום מדהים ביופיו,פסטורלי.מיקום מעולה.נוף מרהיב. הוילות מעוצבות בטוב טעם,נקי מאוד. מאובזרות עם כל מה שצריך. נהננו מאוד מאוד. אין ספק שנחזור שוב.
알트만샤하르 사하르
17 September 2022
חוווית חופשה שלא אשכח, מקום מדהים, עם נוף מהמם, וילה מרווחת, מעוצבת ומאובזרת עם כל מה שצריך. אין ספק שנחזור! 🥰
Great place, excellent service, great staff, friendly people, wonderful swimming pool, very clean and great entertainment. I recommend ממליצה מאוד על המקום, אירוח מושלם במקום מאובזר ביותר כמו בית ולא דירת נופש. בילינו 9 בנות בשתי וילות מאובזרות, מהנות עם בריכות מדהימות עם המלצות נהדרות לבילויים במקום, קרוב לנמל תעופה , קרוב לעיר ולמסעדות שוות


Ein fantastischer Urlaub, in einer unglaublichen Umgebung. ☺Die Villa hatte eine hervorragende Lage, war super ausgestattet und erlaubte uns eine uneingeschränkte Erholung, zu der auch das Personal und Fani, der direkte Kontakt beigetragen haben.
☺הגענו לוילה בלנקה באמצע הלילה, אחרי טיסה...הדרך היתה קצת מלחיצה וחשוכה...ולא הבנו לאן אנחנו נוסעים... ואז הגענו לוילה, שם חיכתה לנו סלסלה עם לחם חמאה ועוד הפתעות.. קמנו בבוקר לחלום! הכל נקי ומסודר , מאובזר עם חשיבה על הפרטים הקטנים והנופים מהממים! המון פינות חמד בוילה בדיוק כאלה שאתה מחפש כשאתה יוצא לחופש...והבריכה מהממת! הבעלים של הוילה מסתבר ישראלי אז יש בוילה קצת ספרים בעברית, ומשחקים שכולנו מכירים ... פאני היתה מהממת וענתה על כל שאלה בכל שעה, עזרה כיוונה המליצה - תודה על הכל! הוילה מרווחת וכיפית, אחרי חמישה לילות שם כל כך התבאסנו לעזוב! תודה על הכל, אין לנו ספק שאם נחזור לכרתים נחזור לוילה בלנקה! ☹קצת מרוחק , אבל עדיין יש מסעדות וסופרים יחסית קרוב לוילה.
What an exceptionally beautiful place with luxurious amenities and exceptionally pretty details (we all loved the cerami ☹ Nothing.

Magnifique nous y retournerons! ☺La facilité d'accès l'accueil toutes les attentions des l'arrivée : petit déjeuner fruits boissons. La vue magnifique et la piscine parfaite pour les familles. La situation dans les champs d'oliviers et la proximité de Chania très animée, l'es équipements machines à laver et à sécher… ☹Franchement rien.
Exceptional property ☺ The property was exceptionally well put together and well appointed. We were extremely comfortable. Little touches like a good quality coffee machine and gread qualty kitchen utilities went a long way to make us feel welcome. The view is absolutely stunning and it is overall a very nice place ☹ We couldn't get the sound system or outdoor speakers to work and the main amp was missing it's volume knob. Our neighbouring villa didn't have this problem as their music was sometimes very loud during the day and early evening. When we arrived there were no pool towels (they didn't arrive till the day after) and on the day of departure, the outdoor space was stripped before we rose and pool towels and covers taken away so we had no pool towels or sun lounger covers for our final swim. Felt very much like we were being 'ushered out'. This slighly tarnished an otherwise near immaculate experience. Please don't let it put you off the property, it's a fantastic place to stay and far superior to 95% of others in the area. I've been visiting the area for 30 years, i'd know! The pool was largely clean, although there was mould/growth (black) on the stones below the water line.
A great villa, possibly one of the best options in the Akrotiri, Chania area. ☺ A truly exceptional villa, super clean, comfortable and with an absolutely fantastic sea view. Pool and an attached tennis court will make sure you &children are busy. Fani (our host) was very helpful with different requests (private chef, cleaning lady), overall, a great experience. ☹ There is nothing really not to like. We had no issues with the accommodation.

Loverly stay in a beautiful villa ☺ Perfect house for a family of 5. Looks better than the photos. Everything super clean. Pool and grounds beautiful ☹ There is noise from airtraffic but it did not bother us much

Fantastic and unforgettable

We had a wonderful stay here and would definitely recommend it!! ☺ The villa was absolutely beautiful! Had everything we needed and more! The hosts left a lovely fruit basket, meat, cheese, bread, jam, wine, coffee, juice, etc. -which was wonderful, as we arrived late and hungry from our flight and didn't have to immediately go out and hunt for a market or restaurant. We, instead, were able to just relax and enjoy the sunset near the pool with sandwiches and wine 🥰 ☹ My one and only con from our stay here is that the grounds maintenance staff was sometimes working in and around the "private" pool area during the morning hours when we really would've liked to have been out there. One morning we were not able to use the pool until almost 11:00, which was quite frustrating, as that put us into the more intense/unhealthy sun part of the day.
Raising Comfort To The Highest Level
Experiences & Things to do